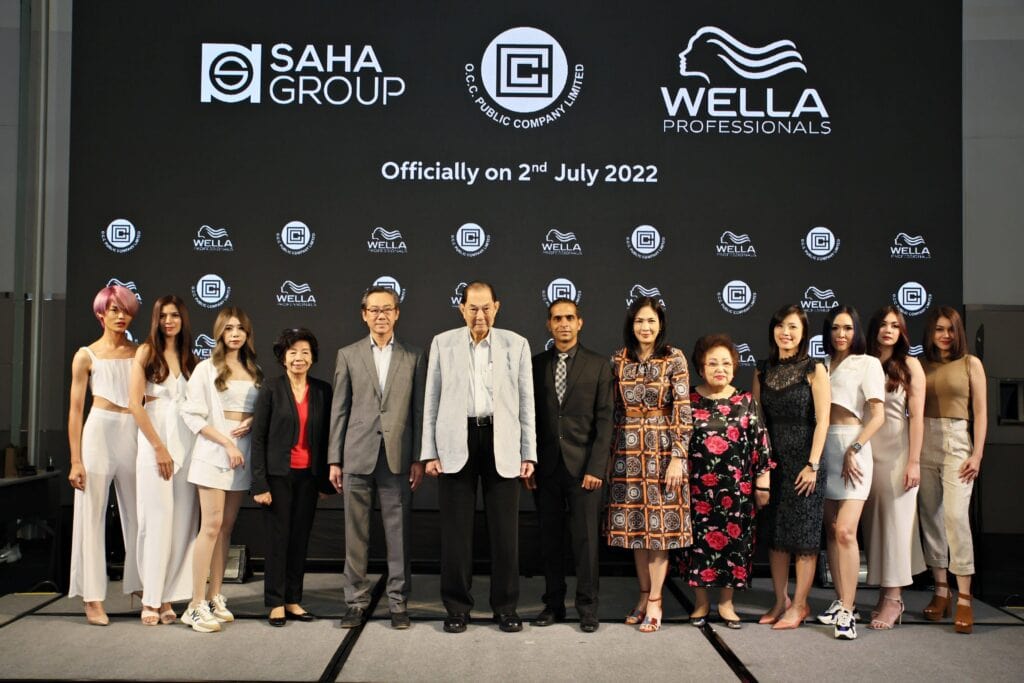 Khun. Teerada Ambhanwong, Managing Director and Chief Executive Officer, Khun Woratep Asavakasem, Director of O.C.C. Public Company Limited, a member of SAHA Group, together with Mr. Manish Bhagat, General Manager and Ms. Xinyu Xu, Commercial Leader of Wella Company in Southeast Asia, Korea, Hong Kong and Taiwan area, held a press conference to launch Wella Professionals, world leader in hair care products as globally renowned for more than 140 years. Agreement to be the distributor of Wella Professionals and other brands in Wella Company under the supervision of OCC Group was officially signed at Silk 3 Meeting Room, 2nd Floor, Bangkok International Trade and Exhibition Center (BITEC), Bangna.
Wella Professionals, is a high-performance hair color and hair care brand that is guaranteed to be the world leader brand in hair color fashion due to innovative products with a variety of options and good customer care service, especially for more than 250,000 salons over 100 countries. Therefore, Wella Professionals is a brand that stands for a long period time and has strong commercial partners around the world.
Regarding to the hair color's product lines of Wella Professionals, there are various brands available. Koleston Perfect is permanent hair color product for professional hair technicians. It's an iconic brand of the world's leading company. 1 tube of Koleston Perfect is purchased every second in the world. ME+ technology (with Plus) reduces the risk of developing a new allergy to hair coloring up to 60 times. Illumina Color is premium hair color product. Its result is a shimmering sheerness which gives a look that is beyond natural, as if it was never been colored. Hair is protected from keratin loss with Microlights and Trilumina Balance technology, which is Patent License. Illumina Color Japan is also available, a color designed for Asian hair. COLOR TOUCH is a semi-permanent hair color product, ammonia-free, various color shades to choose and meet the customers' demand who care for healthy hair.
Besides, Wella Professionals also offers a wide range of hair care products such as: COLOR MOTION+. It protects hair color and hair strength with technology to reduce the formation of free radicals, making hair scales smooth, long-lasting and shiny.
SYSTEM PROFESSIONAL is high performance's hair care product that meets customer's needs who are looking for high performance's service experience. Hair rejuvenation products that are formulated to address specific hair needs to regenerate for hair the feels healthier and more replenished.
NIOXIN is a product brand for those who hair loss and thinning hair. It's awarded The 1st STYLIST CHOICE AWARD from U.S.A. for 16 consecutive years. The results of this award are voted by the salons around the world. The products has advance technology that designed to strengthen hair to withstand loss and help to nourish healthy hair. Therefore, hair looks thicker and has more volume.
Latest, Wella Professionals launched new ELEMENTS range, containing gentle and eco-friendly hair care products for healthy hair and scalp under Clean Beauty Concept. It emphasizes on taking care of a healthy scalp with natural ingredients that are up to 99% and silicone-free. Sulfates and ingredients from animals. In addition, its packaging is made from 100% recycled plastic and can be taken back to recycle again. It'll be released in August, 2023.
 Wella Professionals, has the product brand under its supervision more than 400 item, specializing in hair care, styling and colorant. For more information, news, cutting-edge hair trend, and various interesting activities of Wella Professionals', follow us on Facebook and Instagram @wellapro.thailand